Our highly-experienced coordinators manage the entire process to ensure top quality at all times. Utilizing the translation support software TRADOS, translation service is provided efficiently and with stability.

A group of seasoned specialists in specialty fields including translators, writers and designers play an active role in the entire process to provide documents of high quality. Expertise thus gained is accumulated.

Maximum utilization of expertise and experience gained and accumulated over the past dozen of years ensures that high-quality documents are supplied speedily at reasonable cost.
Languages Handled
~ European languages ~
English, French, German, Italian, Spanish, Portuguese, Dutch, Danish, Polish, Swedish, Norwegian, Finnish, Hungarian, Romanian, Czech, Greek, Russian, Ukrainian and others
~ Asian languages ~
Chinese, Korean, Mongol, Vietnamese, Thai, Malay, Urdu, Indonesian, Bengalese, the Arabic language, Persian, Turkish and others
Expertise Fields
~ Technical ~
Computer software and hardware, semiconductors, communication, electric power generation, electric, machinery, transportation equipment, chemical, civil engineering, construction, environment, patents and others
~ Pharmaceutical ~
Pharmaceutical tests, clinical tests, physical properties, reports, theses, patents, medical equipment and others
~ Legal, economic and general ~
Contracts and agreements, legal documents, finance, securities, corporate profiles, annual reports and others
Work Flow
Since its inception, BTC has made supplying of high-quality translation to clients its corporate vision. Its translation staff is rich in practical experience and are versatile veterans having more than ten years or more in translation experience. The proofreading staff is bilingual staff with rich experience, maintaining a double-check system that is unique to BTC.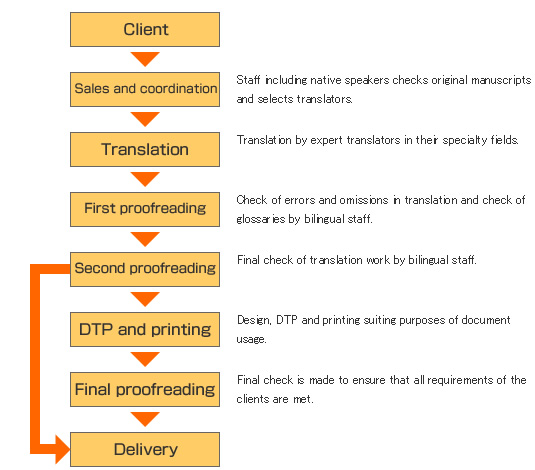 TRADOS
Based on its experience in undertaking translations of more than 6,000 different documents and 4,000 manuals since its inception, BTC has built a translation database of expressions and terms for each field and client.  The translation support software TRADOS is fully utilized to deliver high-quality translation works at low cost with a short lead time.
 The database of texts and terms assures consistent translation with fine quality.
Analysis of data from revisions of manuals and other documents, and extraction of only parts of data that need to be translated anew by comparing with translation memories of first editions greatly save cost and delivery lead time.
 Support for various applications enables existing data to be used, allowing easy layout work, cost reduction and short lead time.  (Applications: Word, PowerPoint, FrameMaker, Interleaf, PageMaker, InDesign, QuarkXpress, HTML, SGML, XML and others)
A wide variety of languages is handled, best suited to localization.
For more information on TRADOS, please feel free to contact us.